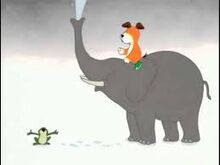 Elephant
is an elephant in
The Rainbow Puddle
. In the episode, the magic frog shows Kipper and they end up on the top of an elephant. The elephant drinks up the puddle, then the frog starts crying and moping, Kipper decides to use the last wish, he whispers the wish to the elephant and Kipper kisses the frog, then the puddle appears again and the frog has his puddle back again and a rainbow. The elephant then lets Kipper down.
Ad blocker interference detected!
Wikia is a free-to-use site that makes money from advertising. We have a modified experience for viewers using ad blockers

Wikia is not accessible if you've made further modifications. Remove the custom ad blocker rule(s) and the page will load as expected.