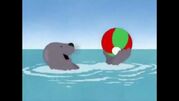 Sea Lion only appeared in The Holiday. Kipper was playing with his ball in the sea when he dropped it, it moved away and the sea lion was moving the ball and played catch with him. Later, when Tiger goes for a wash in the sea, then he sees the sea lion playing with the ball and tells Kipper to come quick, but Kipper's busy reading Tiger's book. The sea lion comes by and knocks over the beach chair. Tiger and Kipper laugh together and then go for a swim in the sea with the sea lion.
Ad blocker interference detected!
Wikia is a free-to-use site that makes money from advertising. We have a modified experience for viewers using ad blockers

Wikia is not accessible if you've made further modifications. Remove the custom ad blocker rule(s) and the page will load as expected.